MovieBox is a popular movie and video player app which is available for both iOS and Android user. If you are an iOS user you must be looking for this app on App Store, but MovieBox is not available on Apple App Store. You don't need to be worried as we are going to tell all about MovieBox here.
Emus4u  is an app store which let you download MovieBox without jailbreak your device. Once MovieBox is installed on your device, immediately you can start playing your favorite HD Movies or videos.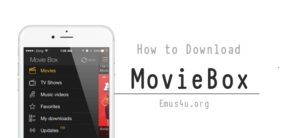 MovieBox Shut Down:
MovieBox is shut down as per the Emus4u Official Twitter handle. That means the app will not provide you with the copyrighted media contents anymore.
If you are a MovieBox  user you must be wondering the sources of the same here and there, but the truth is MovieBox stopped providing any media contents.
Fixing MovieBox Not Working:
MovieBox stopped providing any video contents, as per the media regulation it is not legal to access those file.
The bad news is that not only MovieBox but the alternatives are also not going to provide any video content.
You must be thinking whether jailbreaking your iOS device can fix it, but jailbreaking your iOS device cannot bring back the videos on MovieBox as all the contents have been removed from the server storage.
We do not recommend any of the MovieBox alternatives as of now as it is completely violating the media law to use any of such apps.
follow us on Facebook to get more news and updates.